Urban Daddy | Your Very Own BBQ Coach
License to Grill
Your Very Own Barbecue Coach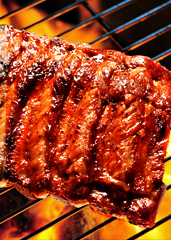 This summer, you're going back to school.
But don't worry, there's brisket.
Learn something useful at BBQ School with the Grill MD, a chance to further your education on the noble subject of smoked meat, now accepting students for private classes.
Doug Pickering. That's the meat-obsessed gentleman behind this endeavor. You may remember him as the pitmaster at Work Bar & Grill. Or that caterer who made burnt ends for your Super Bowl party. Either way, now you'll know him as your very own barbecue coach.
So here's what'll happen. You'll email Doug to book a class. Then you'll show up at his house (he'll also come to you, if you prefer) at the scheduled date and time. Adjourn to his backyard, which is where he keeps multiple Big Green Egg smokers. Then listen closely as he preaches the good word on charcoal and wood-loading techniques, brisket-trimming etiquette and other vital tips you'll want to employ at cookouts, tailgates and whenever you've got a rack of ribs burning a hole in your pocket.
And don't worry about going hungry, because each class includes dinner, cold beers and even a parting gift of barbecue rub and sauce samples….
Likes
Submit a comment
Your email address will not be published. Required fields are marked *